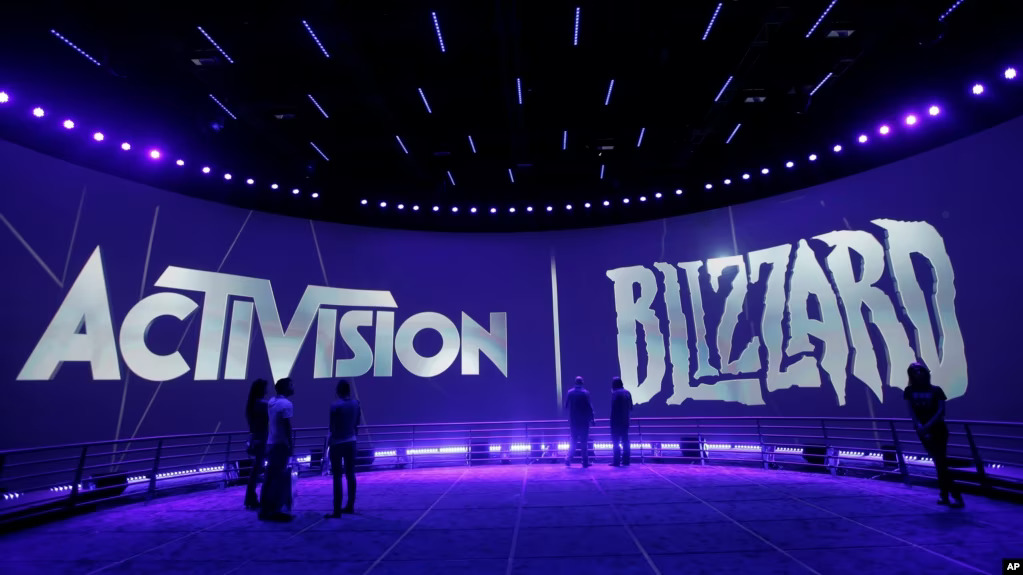 An American judge has temporarily blocked Microsoft's planned purchase of video gaming company Activision Blizzard.
U.S. District Judge Jacqueline Scott Corley made the ruling Tuesday in San Francisco. Her decision came after the Federal Trade Commission (FTC) requested federal court action to block Microsoft's $69 billion deal.
FTC officials have expressed concern that the purchase, also called an acquisition, would hurt competition in the video gaming market. Both Microsoft and Activision had signaled the deal could be completed as soon as June 16.
Corley said her ruling to temporarily halt the deal was "necessary to maintain the status quo" while the FTC's legal cases are still active. An earlier request by the FTC to block the acquisition will also be considered at a hearing set for June 20.
The FTC wants the deal to be blocked until the U.S. government has a chance to have its concerns about competition officially heard.
Microsoft announced the proposed deal in January 2022. If approved, it would become one of the biggest technology deals in history. The deal is expected to improve Microsoft's position in competing with other major video game makers like China's Tencent and Japan's Sony.
Activision Blizzard produces a series of popular and profitable video games. Among them are Call of Duty, Overwatch, World of Warcraft and Candy Crush. Microsoft is expected to make those games and others available to subscription users of its Xbox gaming system.
This has raised questions about whether Microsoft might restrict Activision games to its own Xbox system and Windows-powered computers. Some critics have also expressed concern that the deal could give Microsoft a favored position in the growing international cloud-based gaming market.
The deal has faced intense opposition from competitors such as Japan's Nintendo and Sony. Microsoft sought to answer such criticism by signing a deal with Nintendo to license Activision games like the hugely popular Call of Duty for 10 years. Microsoft offered the same deal to Sony if the deal goes through.
Last month, the European Union gave final approval to the Microsoft-Activision Blizzard acquisition. The approval came after Microsoft made promises to support efforts to expand competition in the cloud-based gaming market. A number of other countries have also approved the deal. These include China, Japan, Brazil and South Korea.
But the acquisition still faces legal difficulties in Britain and the United States.
Britain's Competition and Markets Authority has rejected the deal on grounds that it could harm competition. Microsoft filed an appeal of Britain's decision in late May and protested the rejection to top government officials.
If Microsoft were to close the deal without Britain's approval, it could face new legal difficulties there or possibly decide to suspend its wider game business in the country.
U.S.-based consumer group Public Citizen, an opponent of the deal, has welcomed the FTC's move. "Microsoft is pushing to culminate the purchase of Activision before the agency can finish its process," said Public Citizen official Matt Kent.
In the United States, the FTC already took Microsoft to court last year to block the acquisition.
That case is set to go to trial on August 2 at the FTC's in-house administrative court. The FTC has argued the deal would give Microsoft's Xbox system exclusive rights to Activision games.
Microsoft president Brad Smith said in a statement the company welcomes the chance to present Microsoft's case in federal court. Activision did not comment on the FTC's latest request.
Microsoft officials have said the deal would benefit both gamers and gaming companies. When announcing the deal, Microsoft said it expected the acquisition would close in their 2023 fiscal year, which ends in June.
I'm Bryan Lynn.
The Associated Press and Reuters reported this story. Bryan Lynn adapted the reports for VOA Learning English.
---
Words in This Story
maintain – v. to make something continue
status quo – n. the situation as it exists now, without any changes
subscription – n. an agreement you make with a company to get a publication or service regularly and that you usually pay for in advance
license – v. give someone official permission to do or have something
consumer – n. someone who buys or uses goods or services
culminate – v. to be the final thing in a series of events
exclusive – adj. not shared with another person, organization, etc.
benefit – v. to be helped by something
---
Reference: https://learningenglish.voanews.com